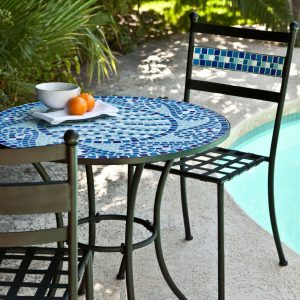 Mosaic bistro patio sets add a great touch of color to your patio area.   A mosaic bistro patio set can be placed on your patio, deck, balcony, porch or any other area of your garden to compliment and be added as an eye-catching piece.
The frames of these mosaic bistro sets are made from different materials like steel, iron, wrought iron with a power-coated finish to protect these sets from the elements.
These mosaic bistro sets come with either two or four bistro chairs to make a complete set.  A mosaic bistro table set is one way of adding a splash of color to your backyard patio area.  These bistro sets can also be placed on your balcony or used in your kitchen area as well.
The mosaic bistro tiles come in different color combinations and patterns that are simply stunning.   The tiles are made from different types of stones like marble, terra cotta, slate, jade, glass etc.
These mosaic bistro patio sets are virtually maintenance free.   All you need to do is wipe them down every once and awhile to maintain their beauty.  These sets are heavy enough that you won't have to worry about them blowing over during gusty winds.
Mosaic bistro patio tables come in different shapes and sizes like round, square and triangular.  When deciding which type of set to choose, consider where you want to place your bistro set so that it fits in perfectly and compliments your surroundings.

Here are some 3-piece mosaic bistro sets to consider getting for your indoor or outdoor living space.
Flowers Mosaic 3-Piece Bistro Set
This Flowers Mosaic 3-piece bistro set features a round table and two chairs.  The craftsmanship on this bistro set is truly beautiful and eye catching.
This outdoor patio set is made from steel and features a wide, sturdy base on the table to ensure stability and a durable, powder-coated finish on the table and chair frames to protect this set from the elements.
The table top material is made from glass and the chair outer frames are constructed from metal.  This bistro set is very sturdy in construction so it won't blow over during strong winds.
This bistro set is very elegant in appearance with its mosaic design and pretty colors.  It can be used for indoor or outdoor use and will compliment any setting.   It is also easy to assemble.
Where To Buy:  Houzz
Home Styles Bistro Set, Marble and Steel 3 Piece Set, Black and Grey
This outdoor mosaic bistro set features a round bistro table and two cushioned Laguna chairs with a two-tone walnut-brown, all-weather resin wicker seat and back over a sturdy, black-finished powder-coated steel frame.
The table is constructed from a cabriole-style powder-coated steel base in a black finish.
This table also features natural octagon marble tiles with black square marble tile accents trimmed in a rectangular and square black marble tile ring for an elegant look.
Each chair includes a poly-foam filled cushion with taupe polyester upholstery and chair ties and are super comfortable.
This bistro set is not only functional but it is also very stylish and will fit into any setting.
Where To Buy:  Walmart
3-Piece Outdoor Bistro Set, Premium Steel Patio Table and Chair
This wrought iron mosaic 3-piece bistro set for the outdoors is gorgeous with its pretty multicolored mosaic tabletop and chairs in accents of mustard, white, blue & black.
The legs of the table and chairs have a strong metal frame and are finished in black.  The chair seats have a sturdy iron-woven style seat which is comfortable to sit on. 
This durable and small patio set is easy to setup with some assembly required.  The chairs fold flat for easy storage.
This Mediterranean style bistro set is perfect for both indoor and outdoor use.  It will coordinate well with any decor.
Where To Buy:  Houzz
Another patio mosaic bistro set that is very pretty in appearance and would great on a patio or back garden is this Glassman 3-piece bistro set.
Glassman 3 Piece Bistro Set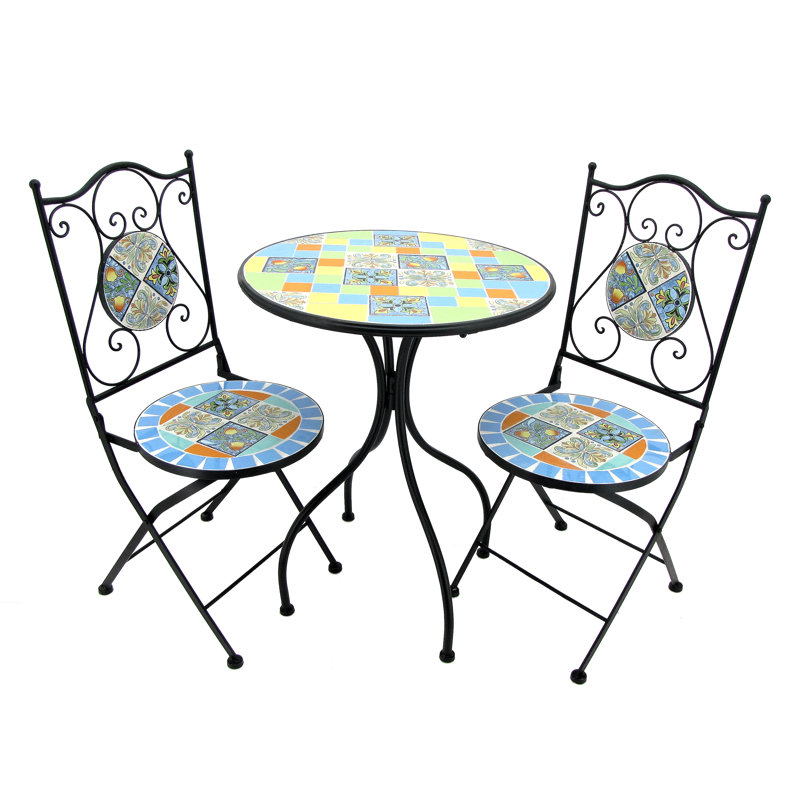 This 3-Piece mosaic bistro set is elegant and incredibly sturdy for anyone looking to enhance their outdoor home's decor.  Each set includes two folding iron chairs with ceramic tile detail along with a corresponding round iron table complete with matching tiles and mosaic pattern.
This outdoor bistro set is sturdy in construction with a powder coated iron finish for added protection and durability.
The table top is made from metal with handmade mosaic tile work and designs.  It is also weather and water resistant. 
No matter where you place this bistro set, it will add elegance to your patio, backyard garden, balcony, porch or any other area of your home.
Where To Buy:  Wayfair
Where To BuySave
Save
Save
Save
Save
Save
Save
Save
Save
Save
Save
Save
Save
Save
Save
Kanstar 3 Piece Outdoor Bistro Set, Premium Steel Patio Table and Chair Bistro Set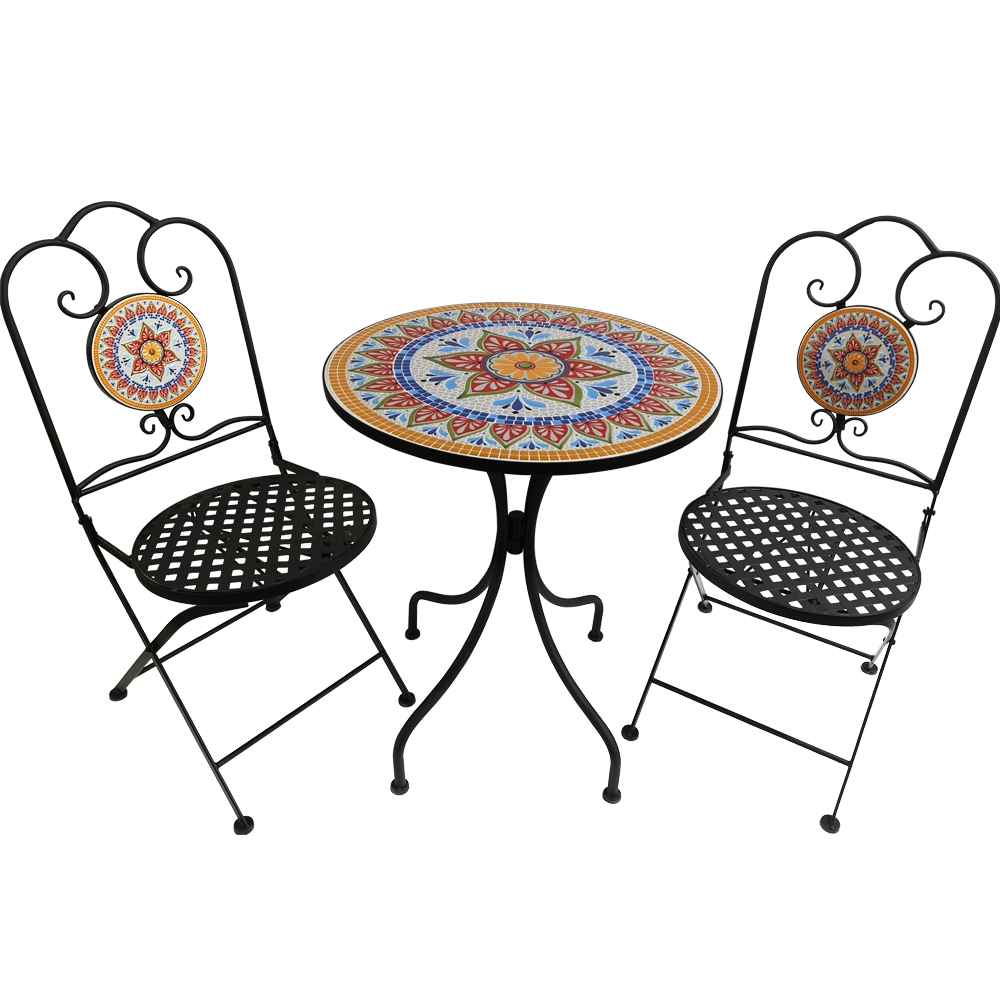 This 3-piece outdoor mosaic bistro set offers bright colored tiles which creates a unique artistic style to this outdoor set.
This metal constructed outdoor bistro set will not only offer you a quiet moment with your favorite drink or a good book to read, but will also provide comfortable seating for your distinguished guests.
This durable and small patio set is easy to setup and maintain. It will offer you the opportunity to spend more time outdoors and will look great on a patio, porch, balcony or back garden area.