Folding wooden garden bistro sets for the outdoors are another popular choice for transforming any small space into a cozy bistro spot for two.  These sets are very stylish in appearance and are the perfect size for small outdoor spaces like a patio, garden, porch or balcony area.
Eucalyptus and acacia are two types of wood that are used to make folding wooden bistro sets for the outdoors.  There are many benefits associated with choosing a folding bistro set made out of these types of woods. 
Eucalyptus for example, is very dense and much stronger compared to other woods so it can withstand extreme weather conditions because it is so durable.  This type of wood is also extremely hard which makes it an excellent choice for an outdoor bistro set.
Eucalyptus is also rot resistant which means it can resist decay and pests over time.  Did you know that this type of wood is also rich in oil and as result it can repel water and moisture to prevent rot from occurring. 
If the wood is left in its natural state, it will weather to a a lovely grey patina over time if left outside year-round.  However, if you want to maintain the darker color of your wooden bistro set, apply a natural linseed oil, or light stain at the beginning of each season to maintain the color.

This type of furniture is also lightweight in construction which makes it easy to relocate.  Outdoor folding wooden bistro sets are also very portable when you are planning a trip and need extra seating.
Another type of wood that outdoor wooden bistro sets are made from is called acacia.  Acacia wood comes from the acacia tree which is native to Australia and Africa.
Folding bistro sets made out of acacia wood are also very durable because the wood is very hard and it is also moisture resistant.   Outdoor bistro sets that are made out of this type of wood are very durable so they also can withstand the elements and will hold up well when they are used outdoors over long periods of time.
The folding wooden bistro sets that are featured on this page are made of solid eucalyptus, acacia or teak wood.

If you are looking for a folding wooden bistro set for your outdoor living space, I have reviewed some different brands and styles.
Natural Warren 3-pc. Cafe Set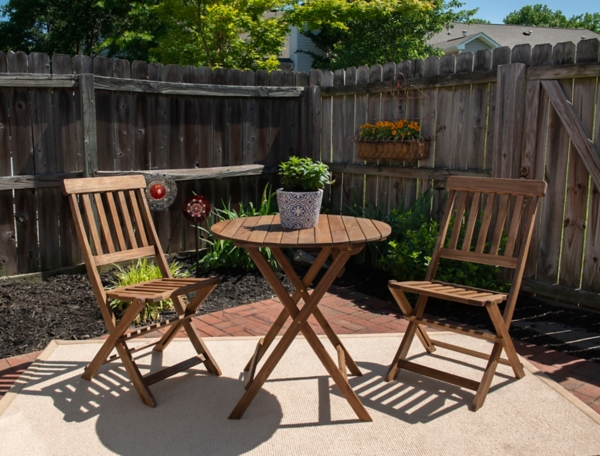 This 3-piece wooden cafe bistro set features a natural teak finish and smooth, slatted wood supports.  This bistro set includes one table and two chairs that fold flat for easy storage when not in use.
The table features a round design while the chairs feature ladder-styled back supports.  This set is safe for indoor or outdoor use during the warm summer months.
Borica Cafe 3 Piece Bistro Set (Set of 3)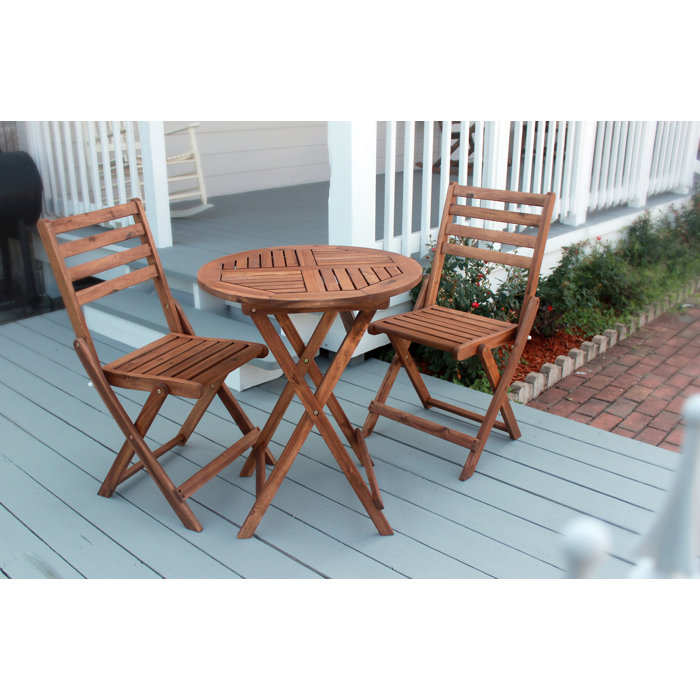 Enjoy the comfort and the elegance of this classic 3-piece bistro set on your patio, porch or balcony area.  Simplistic yet elegant, this set was designed for comfort and ease of use.
Made from sustainable hardwood acacia, minimal care is needed to keep your bistro set looking new for years to come.  This bistro set folds up quickly and easily for storage when not in use.
Where To Buy:  Wayfair
Costway 3PCS Patio Folding Wooden Bistro Set Cushioned Chair Conversation Cushion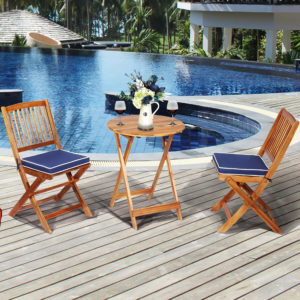 This 3-piece folding wooden bistro set is made of 100% solid acacia wood which can provide a more authentic sense of nature for your outdoor landscape and ensure the stability.
The chair is designed to be ergonomic with a comfortable inclined back and soft cushioned seat.  This bistro set features a compact and foldable design, which makes it convenient for storage and transportation.
What's more, the cover of cushion has a smooth zipper, which is easy for removing and cleaning.
Where To Buy:  Walmart
All Things Cedar 

3-Piece Wood Frame Patio Conversation Set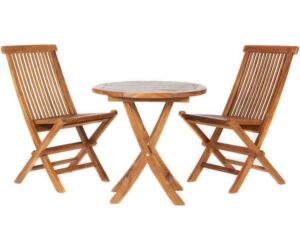 This stylish 3-piece teak bistro table and folding chair set features is hand crafted from Indonesian teak, with a Java colored finish, and fitted with solid brass hardware.
Solid mortise and tenon joinery coupled with highly skilled wood-steaming creates solid, snug fitting parts.  When needed the top is easily removed and folding legs make off-season storage a breeze.
Natural oils act as an insect repellent, and resist rot and decay.  This cedar bistro set comes fully assembled and ready to use.
Where To Buy:  Lowes
Eucalyptus Wood Outdoor Bistro Set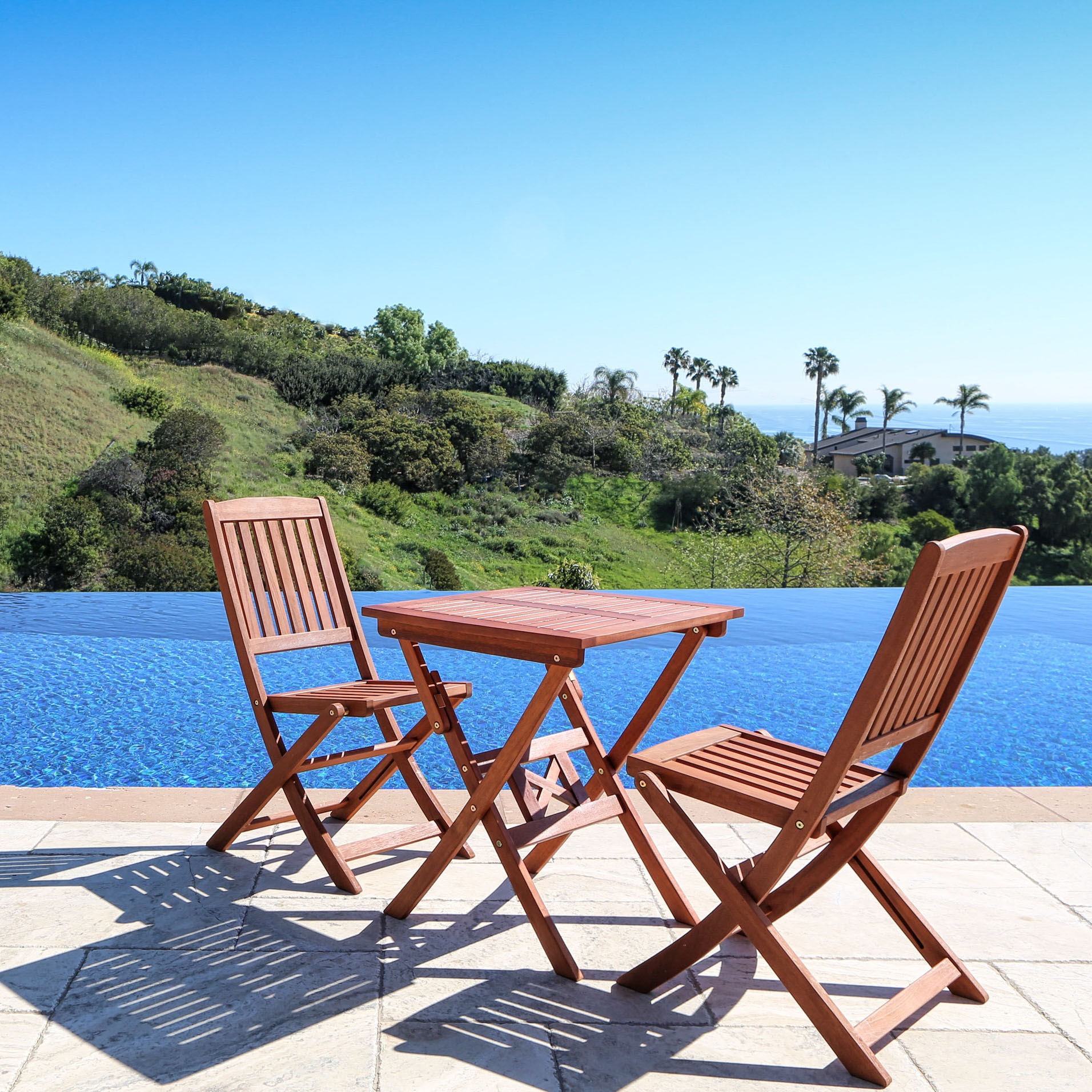 This 3-piece outdoor bistro set is made from solid "Eucalyptus Grandis" hardwood with a natural wood finish.  This set which includes one table and two chairs that fold, would be perfect for an apartment, condo or houses with small outdoor living spaces.
This set is extremely competent at combating mold, mildew, fungi, termites, rot and is decay-resistant.  The simple, portable design of this bistro set makes it a timeless addition to your patio, deck or balcony.
Best of all, all three pieces in this bistro set, fold flat for easy storage during the winter months.
Where To Buy:  Walmart
3 pc. Eucalyptus Folding Bistro Set
This 3-piece folding wooden bistro set would be great for two to dine outside on a patio, deck or garden area.
This set is crafted from plantation grown Brazilian Eucalyptus wood that has several coats of hand applied high quality UV stain and oil for long lasting outdoor use and durability.
The chairs and table both fold for easy storage and the chairs come fully assembled.
The chair dimensions are 18.5″ x 25″ x 37″H with a seat dimension of 16.5″W x 16″D x 18″H and the bistro table is 30″ Dia. x 29.5″H.
Where To Buy:  Houzz
Here is another 3-piece folding wooden bistro set that is really gorgeous and is crafted from solid acacia wood.
Positano Outdoor 3-piece Foldable Acacia Wood Bistro Set by Christopher Knight Home – Brown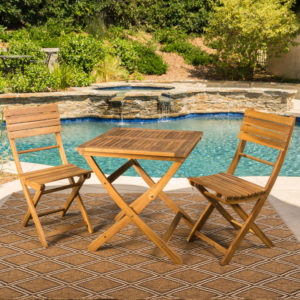 This 3-piece folding wood bistro set is the perfect way to keep an extra table and some seats on hand without having to sacrifice the limited amount of patio space that you have.
Made from top quality acacia wood, this set sure to last.  This bistro set comes with one square table and two folding chairs that folds easily when not in use.
The natural finish of this bistro set is sure to compliment any outdoor living space.
3-Piece Eucalyptus Outdoor Bistro Set with Blue Cushions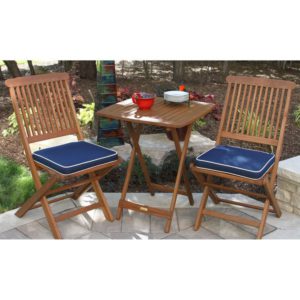 This outdoor folding wooden bistro set features a stylish tapered square table with two durable, solid folding chairs that include weather resistant piped cushions.
This stylish trio is crafted from Brazilian eucalyptus wood with a rich brown stain and weather-resistant navy cushions which add additional comfort.
Its petite stature, clean lines and simple design add casual style and a relaxed feel to any patio or garden setting.
All pieces fold easily for storage and portability.  This is definitely an added plus!
This bistro set is very sturdy in construction and the chairs are comfortable to sit on.  This set would be perfect for a small deck or patio area.
Color Cushion Choices Available:  Navy or Beige
Linon Home Blaise Catalan 3-Piece Outdoor Bistro Set in Teak
This
Linon Catalan bisro set
comes with one round table and two chairs that fold for easy storage and are space saving.
This 3-piece bistro set is sturdy and durable in construction, yet lightweight enough to be moved around.
This set is crafted from solid wood and has a acorn finish that allows naturally occurring wood grain patterns to shine through.
The table is spacious enough for two to dine outside and the dimensions of this bistro set are "28.75L x 28.75W x 28.75H" in.
This dining set is very stylish and would look great on your outdoor patio, balcony or porch area.
Denissa 3 Piece Bistro Set

This 3-piece outdoor folding wooden bistro set in 'Snorkel Blue' is made from solid acacia wood and includes one square table with a slatted tabletop, and two chairs with X-frame trestle bases.
Each piece folds flat for effortless storage when not in use.  This bistro set is very durable and is resistant to insects, molds and water, making it an ideal choice for an outdoor piece.
No assembly required.  Just unfold and enjoy on your patio, porch or balcony.
Colors Available:  Snorkel Blue as shown or white
Where to Buy:  Wayfair
Save
Save
Save
Save
Save
Save
Save
Save
Save
Save
Save
Save
Save
Save
Save
Save
Save
Save
Save
Save
Save
Save
Save
Save
Save
Save
Save
Save
Save
Save
Save
Save
Save
Save
Save
Save
Save
Save
Save
Save
Save
Save
Save
Save
Save
Save
Save
Save
Save
Save
Save